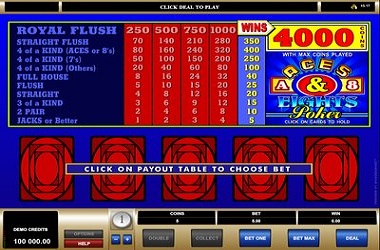 You are bound to like playing some types of casino games more than other games, but if the one category of game you do find yourself drawn to playing regularly is video poker then this guide is going to help you track down the best paying variants.
Below are the suite of video poker game variants on offer from Microgaming and quite a number of non Gamstop casino sites do have them all available.
I have listed the long term expected payout percentages that each variant has been designed around to help you locate the ones that are worth playing, and which ones are not along with a brief insight into what makes each game unique too.
Jacks or Better
The original video poker game that being Jacks or Better is still one of the most played variants, it is easy to play and easy to master playing and as the RTP is decent enough at a high 99.54% you do get plenty of value when playing it for real money.
Joker Poker
I would advise you to steer clear of playing the Joker Poker game for even though the extra card in the deck, that being a Joker is wild, what makes it a poor value game is the fact its RTP is not that awe-inspiring, that RTP for reference is a rather dismal 98.60%
Deuces Wild
The obvious main attraction of Microgaming's Deuces Wild video poker game is that all of the 2 valued cards in the deck are completely wild, so they will of course often help you form winning hand combinations when any number of those cards have been dealt out to you.
As for whether it is a game worth playing, by virtue of its payout percentage, well when playing the single hand variant the RTP is 96.76% which is somewhat low and as such you will be much better advised to play the multi-hand variant which has a payout percentage of a much higher 99.37%.
Tens or Better
The winning hand combinations listed on the pay table of the Tens or Better video poker game variant start at a hand of, you guessed it, a pair to tens and as such this may be a game that could interest some of you out there.
You will also find all Microgaming video poker games offer you a double or nothing type of gamble game whenever you have been dealt out  winning hand. The RTP of this game for reference is 99.14, so not the highest but not the lowest RTP either.
All American
The All American video poker game variant is often overlooked by players but based on the fact it can be played for low or even high coin value settings coupled with the fact its payout percentage is quite high, that being 99.38% do consider giving it a whirl one day soon.
Double Bonus
Once you discover the RTP of the Double Poke variant is a rather low and rather unimpressive 99.11% you will probably realise why it is not really a game that a lot of people tend to play, for there are plenty of other games offering a much higher RTP than that game.
Bonus Poker
Another game some players will be tempted to play from time to time when they fancy a change is the Double Poker variant, I will leave it up to you to decide whether to give it a go or not but be aware that its payout percentage is 99.17%
Aces & Faces
You will need to study the pay table of the Aces and Faces video poker games when playing tit for there are unique hand combinations that boast boosted payouts and its RTP if you fancy tyring it out one day soon is 99.26%
Double Joker
You can probably already guess what makes the Microgaming Double Joker video poker game variant unique, and that is the fact that there are two additional playing cards in the deck, those cards both being Jokers.
Whenever you get one or both of them in a hand they act as wild cards, which does of course mean the pay tables has multiple additional winning hand combinations that can be formed. The RTP of this variant by the way is 98.10%
Deuces & Joker
As the name of the Deuces and Joker does imply, all of the 2 valued cards and the additional Joker card are wild in that variant, and there is a huge payout offer if those are the four cards you are dealt out in your hand when playing that game.
It will of course be the RTP of any variant that either makes it a game worth playing or conversely avoiding, so without further ado allow me to tell you that game has a payout percentage of some 99.07%
Double-Double Video Poker
I will leave it up to you to decide just which video poker games to play online but do make sure you activate the auto play setting when playing any variant, for the game with them help you play perfect playing strategy.
It does that by automatically holding the best cards for you on the initial deal. If you fancy taking your chances playing the Double-Double video poker game then just  be  aware the RTP of that game is certified as being 98.98%, so as far as playing value goes, it is not the highest paying variant, not by a long shot.
All Aces
I would urge you to stick to playing Microgaming's All Aces variant if you are a serious player of video poker games, for thanks to its overly  generous pay table it is the game that offers players by far and away the very best playing value.
The certified RTP of All Aces video poker on offer at all casino sites that use their range of games is 99.92%, and you really are going to be extremely hard pressed to find a variant offering a higher payout percentage than that.