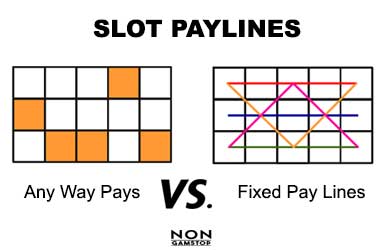 You are of course going to come across a huge number of different types and categories of slot machines when you switch over to playing them online, and one type of slot that many players do enjoy playing are known as All Ways Pays slots.
They have been designed in a unique way, for when playing them you simply need to stake a set increment of coins and by doing so you will have every possible way to win in play.
For example if you are playing a five video reel All Ways Pays slots and you can see three reel symbols in view on each reel, then you will have every single way of forming a winning combination from left to right in play on each spin you play off.
Those slots offer 243 ways to win, and how that works out is simply by multiplying 3 x 3 x 3 x 3 x 3 which does of course equal 243. You may come across slots which have five reels but 5 symbols are in view on each reel and those slots offer you 3125 ways to win on each spin, once again that is worked out by the equation 5 x 5 x 5 x 5 x 5
Even some of the older styled 3 reel slots are designed as always slots, and the ones that have three symbols in view on their screen offer you 27 ways to win per spin (3 x 3 x 3) all for one single stake.
As for whether they offer players value, well at the end of the day each slot will have its own long term expected payout percentage, and therefore any slot game, either an All Ways Pays one or one offering fixed of optional pay lines is only ever going to offer good value based on just how high their respective payout percentages are. So stick to playing the ones with the highest payout percentages, such as any of our licensed non Gamstop online casinos.
Different Slot Machine Variants
To help you understand the main differences between the design of slot machines, below I have put together an overview of the many different variants, many of which I am more than confident that you will enjoy slot machine playing online or via a mobile device.
Fruit Machines – Fruit machines are a type of slot machine that are best known for the huge number of bonus games and bonus features that get triggered, they offer a much more exciting type of game play than most other slots due in no small part to the huge number of features and bonus games awarded to players.
3 Reel Slots – Three reel slots are almost identical to Classic Slots, in as much as they tend to have no bonus games, are fast playing slots and often decent paybacks too, however unlike Classic Slots they tend to offer more optional pay lines, rather than just one single pay line, so do keep that in mind.
Video Slots – Most video slots these days offer one or even more than one bonus game that can be triggered via the base game, they are exciting slots to play for sure, and those bonus games can be pick and match, pick and win, wheel spin or even free spins ones.
Progressive Slots – The sky is often the limit on just how much money you can win when playing one of the many different progressive jackpot awarding slots online, they each offer one or more jackpots that will keep on rising until such a time as one players wins those jackpots. The jackpots are fed using a small percentage of each players stake by the way.
Fixed Odds Slots – The one thing that does appeal to players of fixed odds slot machines is that on every spin played off one of the winning combinations displayed on the pay table is guaranteed to spin in. However, you are tasked with betting on which one you think will spin in, and if you haven't bet on the one that does then you lose.