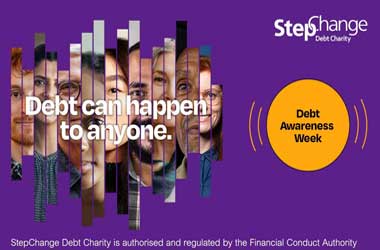 Summary:
GamCare has urged all of its partner organizations to support Debt Awareness Week
Debt Awareness Week is run by StepChange from March 19 – 26
Will help Brits who are in debt due to a lack of financial knowledge
Debt can happen to anyone – this is the main message of Debt Awareness Week, an annual national campaign initiated by debt-relief charity StepChange.
It takes place throughout the UK from March 19 until March 26 and involves various activities and events aimed at providing a better understanding of debt and the impact of the ongoing cost-of-living crisis on people's finances.
GamCare Fully Supports 2023 Debt Awareness Week
Problem gambling treatment and support charity GamCare is giving its full support to Debt Awareness Week and is calling on all of those involved in tackling gambling addiction to also do the same. The independent charity already did its part by recently hosting a Money Guidance Service online session.
Conducted by GamCare's money guidance experts, the session allowed participants, including those dealing with gambling-related financial harm, to learn more about budgeting and money-related issues. The discussion took place in GamCare's online Group Chatroom and the participants were not required to use their real names to take part in the conversation.
Gamblers who are not gambling responsibly are at a higher risk of incurring massive debts due to their gambling habits, and the urge to borrow money has become even more intense now due to rising inflation across the country.
During these challenging times, GamCare said it is important that borrowers are given better protection and that lenders make sure that credit is affordable, taking into account the circumstances of the customers. The Financial Conduct Authority has also emphasized this to the tens of thousands of financial services firms it regulates across the UK.
GamCare has urged those who may be struggling with financial difficulties linked to gambling to seek support. Furthermore, it has also reminded customers that they can access free debt advice and resources from StepChange to help them manage their debts.
StepChange will host a Q&A session on March 24 in partnership with ClearScore, a financial technology company providing credit scoring services. Participants may ask questions regarding debt, credit scores, and how the cost-of-living crisis can impact their financial well-being. The live Q&A will be broadcast across StepChange's social media pages.
Lack of Financial Knowledge Pushes 1 in 10 Brits to Debt
As Debt Awareness Week is marked across the UK, a study has found that 1 in 10 or 9% of UK customers struggle with debt due to a lack of financial knowledge. The study, conducted by credit management firm Lowell, also unveiled that 32% of Brits remain hesitant to talk about financial issues, leading to money problems and life-changing situations, including relationship breakdowns and divorce.