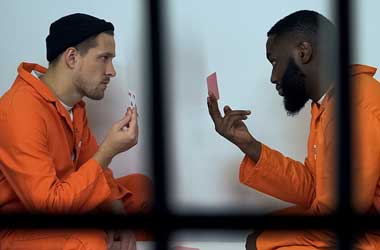 Summary
A huge number of inmates were gambling in prison, some of them were problem gamblers
Winning prizes, finding excitement, and relieving boredom were stated as common reasons
19% resorted to borrowing money from other prisoners to support their gambling habit
Gambling is rampant in UK prisons, with some inmates seeing it as a "normal part" of prison life.
That's one of the findings of new research "Gambling and crime: An exploration of gambling availability and culture in an English prison" which looked into the nature of in-prison gambling, the motivations behind it, and its relationship with gambling behavior among prisoners prior to being sentenced.
UK Prison Systems Accepts Gambling As Normal
Analysis conducted by Russell Webster, researcher, evaluator, consultant, and writer in drugs, alcohol, and criminal justice, involved 282 male volunteers in a category B male prison in England. Each of the participants was asked to complete a questionnaire examining their gambling behavior while in prison.
Of the 282 participants, 126 (45%) said they had gambled in prison, and 116 (92%) of them had an experience with gambling prior to their sentence. The remaining 10 (8%) only engaged in gambling after they were sentenced.
Overall, 66% of those surveyed reported gambling at some point in their life before their imprisonment. Majority of them (49%) played on slots or gambling machines, while others placed wagers on sports such as football or horses/greyhounds. Some played card and dice games and also gambled online before being sentenced.
Inmates were involved in various forms of gambling in jail, with card and dice games a top favorite (52%). Sports betting and ball games accounted for 46% and 21.6% respectively.
Of the 282 participants, 30.3% considered gambling as a "normal part" of prison life. Gambling in prison was mostly motivated by the urge to win prizes, relieve boredom, and the clamor for excitement.
19% Borrowed Money from Other Inmates to Gamble
The survey also made use of the Problem Gambling Severity Index (PGSI), a screening tool used to identify and measure at-risk behavior in problem gambling. The study found that 28% of those who had gambled prior to their imprisonment were in the moderate to high-risk category.
Of those who had gambled in prison, 19% said they had borrowed money from other inmates to gamble, most of whom were classed as problem gamblers. 57% still had existing debts when the survey was conducted.
The results of the survey coincide with the findings of previous studies relating to high rates of gambling in prison. The research recommends that screening and support be made available to control and manage gambling among inmates. The study also said that they must also be provided with a more appropriately stimulating prison environment.