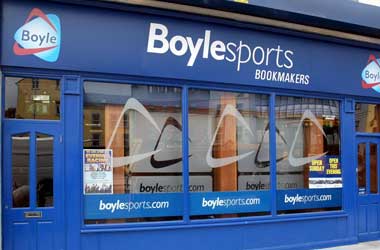 The UK Gambling Commission (UKGC) has sent another strong message to gambling operators in the country after slapping a £2.8 million fine on BoyleSports.
The Irish bookmaker was hit with a hefty fine for not carrying out proper money laundering assessments and not doing enough to stop money laundering activities.
The gambling watchdog found that BoyCasino.com and BoyleSports.com had committed violations did not carry out proper AML protocol and did not do enough to prevent money laundering from taking place at its sites.
BoyleSports not only has to pay up a hefty fine but will also have to comply with new stringent license conditions. The UKGC wants the Irish bookmaker to hire a Money Laundering Reporting officer who has a Personal Management Licence (PML) from the UKGC.
This officer will be in charge of implementing and ensuring BoyleSports complies with AML regulations in the UK. The officer will also have to go through an annual refresher course to prove to the UKGC that they are up to date with AML laws.
BoyleSports will also commit to sending their senior staff, key account staff and PML officers for AML training to an outsourced provider and ensure that these staff continue to get refresher courses from outsourced AML training providers every year.
UKGC Continues AML Crackdown
The UKGC has been on a roll with issuing massive fines to operators who fail to comply with AML measures. Caesars Entertainment which owns a number of land based casinos across the country was hit with a massive £13 million fine and in March 2020, Betway was hit with a £11.6 million fine. Betway was also pulled up for money laundering violations.
The message to licensed gambling operators is loud and clear. They need to ensure that they have up to date AML procedures in place and their staff are fully trained in implementing and following these AML protocols at all times. If they don't toe the line, they will not only be hit with heavy fines but will also have other restrictions imposed on their gaming license.
If they continue to breach gaming violations and not comply with the new license restrictions, the UKGC could end up revoking their gaming license.
The UK is looking to review its Gambling Act 2005 which many gambling opponents have labelled as archaic. Reports suggest that this review will now take place in 2021.