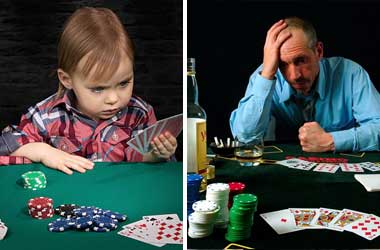 Summary:
The survey shows 60% of people in the UK gambled in the past 12 months
2.9% of those who gambled were classified as problem gamblers
The study found that early exposure is associated with a greater risk of gambling harms
A new survey published by GambleAware, the lead commissioning charity in Great Britain, has found that early exposure to gambling could lead to harms in later life.
Most of those dealing with significant harm had been exposed to the practice before the age of 18 by seeing a family member engaging in gambling activities on a regular basis, the study shows.
60% Gambled in Past Year, 2.9% Classified as Problem Gamblers
Of the 18,000 adults surveyed by YouGov, 60% (or around 31.2 million adults in Great Britain) engaged in gambling activity in the past 12 months, while 47% (24.4 million adults) gambled in the last four weeks. The lottery was the most popular form of gambling, with participation increasing slightly to 44.4% from 44.2% in 2019.
Other segments saw a drop in participation, including sports betting (from 16.4% in 2019 to 14.2% in 2022) and casino gambling (from 2% in 2019 to 1.6% in 2021). Meanwhile, the latest data for online casino gaming (3.6%) represent an increase from 2019 which sat at 3%.
In measuring the rate of gambling harms and problem gambling in Great Britain, the survey makes use of the Problem Gambling Severity Index (PGSI). Overall, 2.9% were classified as problem gamblers, while 7.5% and 3% were low-risk and moderate-risk gamblers, respectively.
Early Exposure Linked to Higher Risk of Gambling Harms
The Treatment and Support Survey, conducted annually by YouGov on behalf of GambleAware, looks into the prevalence of gambling, the rate of problem gambling, and the proportions experiencing gambling harms in Great Britain.
In 2022, early exposure was added as a new component of the study, and it found that three in five Brits had been exposed to gambling before they turned 18.
Of those classified as problem gamblers (with a PGSI score of 8+), 64% said that before they turned 18, they knew people who would gamble regularly, most of whom were family members. 27% reported being with their father when they were first exposed to gambling, while 16% were with their mother. The rest learned about gambling early in their life through their grandparents, friends, and siblings.
GambleAware Chief Executive Zoe Osmond stressed that based on the latest survey, gambling harms remain a serious public health issue that can affect anyone, including children and young people. She noted that gambling is being increasingly normalized across society, with early exposure also linked to a greater risk of experiencing gambling harms.