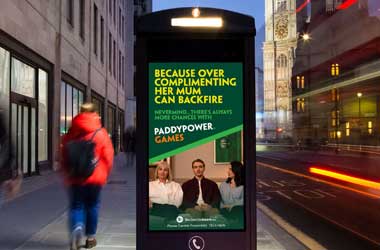 Summary
Paddy Power faced complaints regarding its Wonder Wheel ad
ASA ruled the ad depicted gambling as taking priority over family
Paddy Power contested the complaints but accepted ASA's verdict
A Paddy Power advertisement showing a person prioritizing gambling over family ended up being banned by the UK Advertising watchdog, the Advertising Standards Authority (ASA). While the operator initially defended the ad, it acknowledged ASA's judgment and agreed to remove the TV commercial.
The ad, which was meant to promote Paddy Power's popular free-to-play game "Wonder Wheel", shows a man glued to his phone playing the game, with his family in the background. A family member offered him a drink but he was too occupied with the game that he simply glanced at it and continued playing.
His partner then came and tried to engage him in a conversation by asking if he thinks she'll end up looking like her mother, to which he responded "I hope so", while remaining focused on his playing. He then realized he gave an inappropriate reply.
ASA received two complaints against the ad, with the main point being that the person playing Wonder Wheel prioritized the game over his family. The complainants said the Paddy Power commercial depicted gambling as something more important than social interaction and human connection, which was socially irresponsible.
Paddy Power responded to the claim by saying that the ad portrayed the opposite; that it showed that the person remained committed to family life and acknowledged the people around him while he was playing.
Concern was also raised over some language used in the ad, particularly one line suggesting that people can always get another chance in gambling despite the losses. The "stuff it up" message used by Paddy Power encouraged repeated gambling, according to the complainants.
Paddy Power defended the ad, saying the guy in the TV commercial giving an inappropriate reply to his partner's question was a real-life example of making a mistake and does not necessarily refer to losing a bet.
The company argued that the ad in question did not promote socially irresponsible gambling as Wonder Wheel is a free game that does not require any deposits from players. Paddy Power also maintained that the ad did not promote or encourage excessive gambling.
Paddy Power Removes Ad
In its verdict, ASA sided with the complainants that the ad depicted gambling as taking priority over family. The authority also ruled that the "stuff it up" line used in the ad was likely to encourage harmful gambling behavior.
ASA ordered Paddy Power to remove the TV commercial and avoid producing similar advertisements in the future. Paddy Power followed the order and stopped the airing of the commercial.