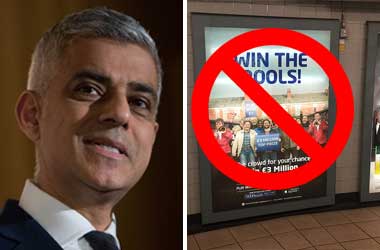 A special committee is currently reviewing the 2005 Gambling Act and they are expected to make major changes that will impact the gambling market in the United Kingdom.
While the special committee conducts their review, a number of different stakeholders are pushing for new measures to be imposed to control the spread of problem gambling in the UK.
When Sadiq Khan ran to be re-elected as Mayor of London, he promised that he would ban gambling adverts on public transport in London. Khan is following up on that promise after sending out instructions to Transport for London (TfL) and asking them to put a stop to gambling advertisements in public modes of transport.
TfL brings in a lot of revenue from gambling related ads which have become a norm across all public transportation modes, especially the London Tube. Stats show that during April to June 2021, TfL ran as many as 49 advertising campaigns sponsored by gambling operators.
To give you an indication as to how much gambling advertising has grown in the span of two years, the total number of gambling ads that ran during the 2018 to 2019 fiscal was just 61. Khan said that it was high time TfL banned all gambling related ads as gambling has devastated many families across London.
No Timeframe As To When Ads Will Be Banned
While TfL has received instructions to ban gambling related ads, there is no timeframe as of now as to when the ban will be implemented. There is a lot for TfL to consider as gambling related ads bring in millions of dollars each year. When Khan decided to tackle obesity in children in 2019, he asked TfL to implement a junk food ban.
TfL did that and ended up losing between £12 to 25 million per year via lost advertising revenues. A lot of the gambling related ads are from sports betting operators who encourage Brits to have a punt on the Premier League or other popular sports events taking place across the country.
There is also pressure on Khan to ban ads on public transport that advertise risky investments such as cryptocurrency trading and investing. Khan has decided to first tackle gambling related ands and thereafter work with the TfL to address ads involving risky financial investments.