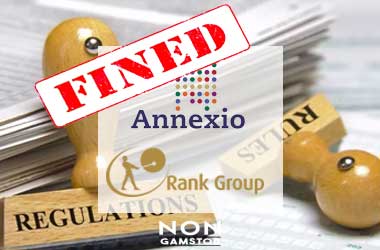 Summary
UKGC announces combined fines of £1.3 million
Annexio and Rank Group found breaching social responsibilities
Both operators accept failings and agree to pay fine
The UK Gambling Commission (UKGC) recently announced that it had imposed a total of £1.3 million in combined fines.
The fines were slapped on two operators for failing to meet their social responsibilities and comply with gaming regulations in the UK.
The UK gambling watchdog has continued to take stringent action against licensed gaming operators that do fall short of gaming compliance. These fines send a strong message to the rest of the industry to toe the line.
Rank Group Gets Slapped With £700,557
Rank Group is a big name in the UK gaming market as the operator runs a number of popular gaming brands which include bingo site meccabingo.com, casinos such as bellacasino.com, grosvenorcasino.com and meccagames.com. The operator was pulled up for its shortcomings that took place during Oct 2019 and Feb 2021.
The UKGC found that Rank Group fell short of its social responsibilities in regard to customer identification, interactions and self-exclusion. Rank Group admitted to the gaming regulator that it did fall short of its social responsibilities with regards to self-exclusion and said that it occurred due to a technical error during migrating its meccagames.com and bellacasino.com sites.
Rank Group also said that it was over dependent on its procedure of not permitting loss limits of over £1,000 during a 30 day time period. The triggers that it put in place to prevent certain players from depositing more than £1,000 during this period did not operate effectively and hence it failed in this regard.
Rank Group was hit with a total fine of £700,557 which the operator agreed to pay.
Annexio Limited Hit With £612,000 Fine
Annexio Limited was the second operator that was pulled up for failing which took place during Oct 2019 to Nov 2021. The operator runs Lottogo.com in the UK and was found to have breached social responsibilities and also money laundering laws.
The investigation found that Annexio did not follow proper protocols to prevent money laundering, even reporting and customer interaction. Annexio Limited was hit with a total fine of £612,000 which the operator agreed to pay.
The UKGC confirmed that both operators cooperated with the investigation and had now taken the necessary measures to prevent such occurrences from happening in the future.