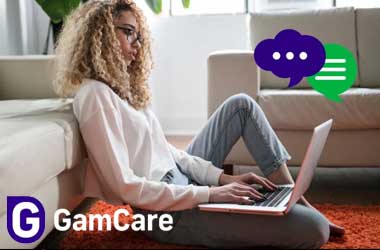 Summary:
The women's only chatroom launched on July 18, with sessions running for six weeks
The initiative aims to encourage women to open up about their gambling concerns
Licensed operators warned by UKGC to not delay withdrawal requests
GamCare is boosting its support for women struggling with problem gambling by launching the "Women's Chatroom", an online space where women with gambling concerns can share their stories and seek help. It encourages engagement and communication among females experiencing similar issues, thereby removing feelings of shame or guilt.
GamCare's Women's Chatroom Now Active
This isn't the first time that GamCare has launched a female-focused chatroom. It ran similar initiatives before, aimed at providing a safe, confidential space for women affected by problem gambling to open up to like-minded people without fear of judgment.
Every year, more than 40,000 people reach out to the National Gambling Helpline to seek help, with women accounting for 30%. With the re-launch of the Women's Chatroom, GamCare is hoping to get more women to talk openly in order to give them the support that they need.
The Women's Chatroom will feature semi-structured sessions, with a new theme to discuss each week: Week 1 – Introduction: Gambling & The Woman, Week 2 – Gambling & The Mind, Week 3 – Gambling & Relationships, Week 4 – Gambling & The Self, Week 5 – Gambling & Recovery, Week 6 – Gambling & Letting Go.
The chatroom has been active since July 18, with the sessions running every Tuesday from 7pm-8pm, moderated by a trained advisor. GamCare wants to let women who may be dealing with their own gambling issues or affected by others' gambling problems know that they are not alone.
Those keen on joining the chatroom will be required to register. They need to provide their email and first name when they sign up but this information will remain confidential. They can use a username that is not necessarily linked to their real identities when participating in the chatroom, which means they can stay anonymous throughout the sessions.
UKGC Reminds Operators to Avoid Delays in Processing Withdrawals
Meanwhile, the UK Gambling Commission (UKGC) has raised concerns about issues faced by players when trying to withdraw funds from their accounts. The Commission's Contact Centre has been getting more than 6,000 calls from customers, and issues around withdrawals have been the main subject of complaints, according to Lucy Denton, UKGC's Director of Communications.
Common complaints relate to long delays in the transfer of funds and some gambling operators requiring certain documents to be submitted to them before granting the withdrawal request.