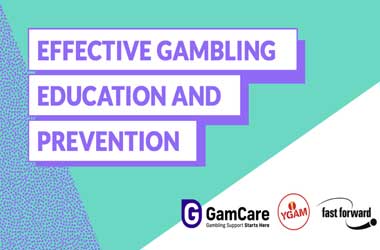 Summary
GamCare releases new Gambling Education Framework
New framework is a result of collaboration between GamCare, Fast Forward and YGAM
New framework is completely free of any gambling industry influence or funding
While the UK gambling industry continues to wait patiently for the promised Whitepaper to be released, GamCare and its partners have come together to release a new gambling education framework to help Brits be better equipped to tackle gambling addiction.
New Gambling Education Framework
The UK government is currently looking to overhaul its outdated 2005 Gambling Act and publish a whitepaper with its proposed changes. The whitepaper continues to be delayed and anti-gambling opponents are unhappy with the delays as gambling addiction continues to be a concern with Brits.
GamCare which is an independent charity in the UK decided to join forces with Young Gamers and Gamblers Education Trust (YGAM) and Fast Forward to put together a new gambling education framework that will offer better insight, education and protection to gamblers in the UK.
The core purpose of the framework is to help those who work with individuals showing signs of gambling addiction or suffering with gambling addiction. The framework consists of evidence based principles that offer a detailed explanation on gambling education and disorders.
While it is suitable for individuals who work with gambling addicts, it will also be beneficial to players who are looking to deal with gambling addiction symptoms. The framework consists of research findings and data analysis of what preventive measures work best. The framework provides principles, recommendations and conclusions that that places an emphasis on young people.
Framework Not Funded By Gambling Stakeholders
One of the concerns that anti-gambling opponents have with a lot of gambling related surveys and research is over their accuracy and credibility. This is because the vast majority of these gambling research studies and reports are funded by gambling industry stakeholders who have vested interests and hence the data is always questionable.
GamCare has confirmed that its new gambling education framework was developed without any funding or influence from gambling industry stakeholders. Jane Rigbye, CEO of YGAM said that this framework will provide practical assistance to gambling harm prevention agencies and the gambling education sector. Rigbye said that the framework was a great way to share best practices, collaborate and share latest insights that will have a major impact on dealing with Brits who show signs of gambling addiction.