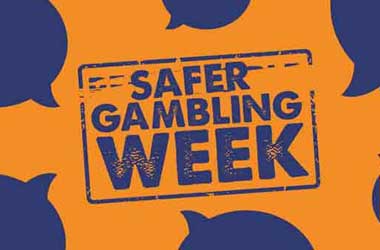 The UK has focused on running a responsible gambling week campaign for the last few years as the country looks to address the growing increase in problem gambling.
This year, the responsible gambling week title was scrapped in favour for 'Safer Gambling Week' which commenced on Nov 19 and will run till Nov 25.
Every year, a special tagline is given to responsible gambling week. This year, the tagline for Safer Gambling Week is 'Let's Talk About Safer Gambling'. Some of the biggest stakeholders in the UK gambling industry come together to promote safer gambling week.
Safer Gambling Week
The Betting and Gaming Council (BGC), the British Amusement Catering Trade Association (Bacta), The Bingo Association and the Irish Bookmakers Association are all part of this effort along with iGaming operators, bingo clubs, retail sports books and casinos making this a pan-gambling industry campaign.
The key focus for Safer Gambling Week 2020 is to increase the awareness of how UK players can gamble more responsibly, educate players as to the different responsible gambling tools that are available to them 24/7 and throughout the year. There is also a push to make players more aware of the different organisations that they can contact to get the help they need, should they feel their gambling is getting out of control.
The Safer Gambling Week initiative is also backed by the UK Gambling Commission (UKGC), the UK government and organizations like YGAM and GamCare.
Safer Gambling – All Year Around
While it is great to see all stakeholders in the UK gambling industry coming together for Safer Gambling Week, BGC CEO Michael Dugher said it was important for both operators and players to understand that the emphasis for safer gambling should not be placed on just one week but 365 days a year.
All stakeholders involved in this campaign have been given lots of promotional materials that ask players different questions that help them to identify if they have a problem gambling habit, give them information on how to recognize signs of gambling addiction and how they can get in touch with problem gambling organizations for support.
Multiple social media channels are being used to promote Safer Gambling Week. YGAM, GamCare and National Gambling Helpline are prepared to handle an increased number of enquiries during the next few days.
The UK government is also set to review the Gambling Act 2005 in early 2021 to see what amendments can be made to offer players better protection and reduce problem gambling numbers in the UK.