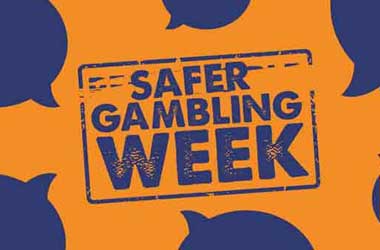 Summary
Safer Gambling Week 2022 will take place in the UK from October 17 to 23
Safer Gambling Week will focus on promoting responsible gambling
The trade associations hope to build on the success of the 2021 event
The associations representing all gambling operators across the UK are joining forces for this year's Safer Gambling Week which is confirmed to run from October 17-23.
The UK's gambling operators will be represented by the Betting and Gaming Council (BGC), Bingo Association, Lotteries Council and BACTA.
The four associations recently released a joint update on Safer Gambling Week, saying this year's activities will place the spotlight on responsible betting. In line with this, the Week will be filled with safer gambling messages for both land-based and online gaming sectors aimed at driving a national discussion on responsible gambling.
While problem gambling rates in the UK have remained low, the industry needs to continue working and keep raising the standards, according to BGC Chief Executive Michael Dugher. Safer Gambling Week, which has now become an annual event, is a testament to the regulated industry's continuing commitment to responsible gambling, Dugher added.
Recognizing the positive impact the Safer Gambling Week has had on the UK's gambling sector, Dugher highlighted the daily initiatives spearheaded by betting and gaming operators in promoting safer gambling, including the "whistle to whistle" ban on TV ads during live sports programs, and stringent verification checks.
Licensed operators also work round the clock to promote safer gambling by encouraging the use of deposit caps and timeouts, and enhancing awareness of a range of self-exclusion services available for those who need help with their gambling problems.
Operators to Build on Success of 2021 Event
Last year's activities marking the event had been a massive success and the four gaming industry trade organizations in the country are hoping to build on that record-breaking achievement.
The success of the 2021 Safer Gambling Week is supported by relevant figures – there's been a 17% increase in the promotion and awareness of safer gambling tools during the week, while sessions across safer gambling sites also grew by 79%. Additionally, social media impressions relating to Safer Gambling Week 2021 reached 24.5 million, a 16% increase from 2020.
The latest figures also show that the problem gambling rate across the country has dropped to 0.2% in March 2022, compared to the 0.3% recorded in February. The number also represents a 0.4% drop from last year.
The associations stated that this year's Safer Gambling Week once again provides the industry with an opportunity to promote responsible gambling and let everyone know that help is available. The event will further cement social responsibility at the core of their operations.