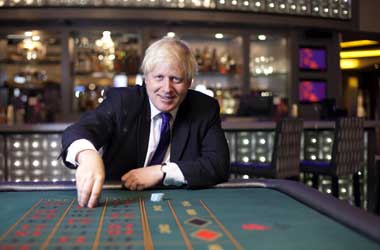 Summary
UK Gambling review whitepaper delayed yet again
Delay caused due to uncertainty over PM's tenure
Anti-gambling campaigners not happy with new delay
There appears to be another delay in the United Kingdom (UK) government's proposal to reform gambling laws in the country.
This new delay has upset campaigners seeking reforms in the gambling industry. With grim uncertainty surrounding Prime Minister Boris Johnson's continuity of tenure, the awaited white paper release on gambling reform has now been pushed to May 2022.
Amid raging concerns over gambling addiction and children's exposure to gambling and betting via football sponsorships and media advertisements, the Department for Digital, Culture, Media, and Sport (DCMS) had initiated a review of gambling laws in the last leg of 2020. The proposals were expected to check how much gamblers would bet and suggest a ban on gambling promotions on football jerseys.
It was expected that a white paper suggesting the reforms would be published before 2021 ended. However, the proposal was postponed to early 2022 when Chris Philp took charge as the gambling minister post a cabinet reshuffle. Now, Johnson's uncertain future poses a roadblock in the way of the expected reform proposal. The PM is considered a supporter of reforms in the gambling industry.
The delay has elicited strong reactions from pro-reform organisations and politicians such as Labour Party MP Carolyn Harris. According to her, the haze surrounding Johnson could disrupt the announced review. Harris added that while time is required to accumulate sufficient evidence to initiate the reforms, every delay would contribute to gambling harms. In her view, the Conservative government should not let its internal disputes stall the reform proposals.
Other advocates like Gambling With Lives' Liz Ritchie and Matt Zarb-Cousin from Clean Up Gambling were more forthcoming with the urgency for reforms. According to the two activists, the delay would mean more lives lost to gambling-related harm while gambling companies continue to make profits at the expense of shattered families. Government inaction and repeated delays are the activists' objects of ire. Pro-reformists, aided by former casino veteran Derek Webb, highlighted more incidences of addictions and infringement by operators.
UKGC Faces More Pressure
The United Kingdom Gambling Commission (UKGC) is currently mulling over the decision as to which operator will land the next decade-long National Lottery licence.
The decision will be announced this month or in March. The UKGC will be under a lot more pressure to do more to protect UK players now that the promised whitepaper is delayed yet again.