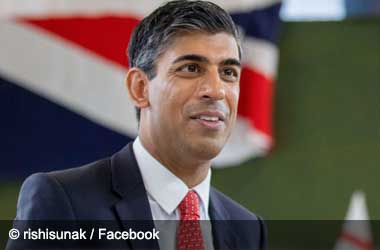 Summary
The UK PM is giving his all-out support to tough measures aimed at curbing online gambling
Rishi Sunak is reportedly pushing for the publication of the Gambling Review in 2022
Among the measures set to be implemented are stake limits and customer affordability checks
Stringent measures to curb online gambling have reportedly gained the backing of British Prime Minister Rishi Sunak.
According to a report by The Times, Sunak doesn't want any more delays to the Gambling Act Review and is pushing to have the White Paper published before the end of 2022. Sunak was sworn in as the UK's new leader in October, following the resignation of Liz Truss.
Stake Limits, Affordability Checks on the Way
The Times reported that under Sunak's leadership, the government will implement the "toughest" restrictions on online gambling, fulfilling a pledge by the Conservative Party in its 2019 general election manifesto. The Conservatives promised to introduce major reforms to the country's gambling laws to bring them into line with the digital age.
Among headline measures contained in the Gambling Act Review White Paper is the implementation of stake limits and customer affordability checks aimed at fixing the "catastrophic" impact of online gambling, The Times said.
The government will impose maximum stake limits of between £2 and £5 on online slots, with the new rules also allowing players to place higher wagers only if they can afford to.
Operators will be required to carry out "non-intrusive" financial checks on customers to determine how much money they can afford to spend on gambling. Lawmakers have yet to determine the precise mechanism for this, with The Times reporting that the government will conduct a consultation on the matter. Age verification processes will also be strengthened to make sure minors don't engage in any form of gambling.
Stake limits and customer affordability checks could hurt online gambling revenue, with the government earlier predicting a revenue drop of as much as £700 million. The government is pushing on with the measures despite strong opposition from industry leaders.
Gambling Review an Important Mandate for Sunak
The White Paper also includes a controversial measure relating to a voluntary ban on shirt sponsorship by gambling companies which gained support from Premier League clubs. Members of the Gambling Harm All-Party Parliamentary Group (APPG) are opposing it, with the cross-party group instead pushing for a total ban on all gambling advertising within sports.
The reforms will be reportedly implemented via secondary legislation which will not require Parliament votes.
Sunak, who had maintained a neutral stance on gambling reforms during his time as Chancellor of the Exchequer, now considers the Gambling Review as a crucial mandate of his leadership according to The Times report.